Click on the share 

icon to open up the share options.
---
Share a link
There are two ways to share the map viewer link:
Copy the text (ctrl+c) to paste the link into an email or embed the hyperlink in your website.
Post the map viewer to Facebook, Twitter or Google Accounts, or send the link in an email.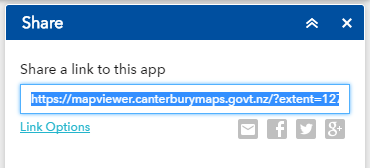 Note: The layers in your map can only be shared if:
you have pre-loaded a map from the explore  tool in the map viewer
you have opened the map from the explore page on the Canterbury Maps home page.
they have not been added in through the add data  tool.