Download it
1. Select the title of the item you want to download in the open data site by using the steps above. This will open the data details and give you the download options.
Example:

2. Choose from the available download types: Excel Spreadsheet, KML or Shapefile.
Spreadsheet - a way to view the data in a table format
KML - is a file format used to display geographic data in Google Earth.
Shapefile - is a widely supported format for storing the location, shape, and attributes of geographic features.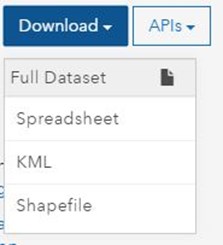 Connecting to API's
Another way to access the data available on the open data site is to connect directly to an API. By doing this data can be directly pulled into another GIS system such as ArcGISOnline, ArcMap and QGIS.
1. Find the data you wish to access using the steps above. 
2. Choose from the available API connections and bring the data into an external GIS system. Read more about how to do this here