How to search efficiently in the Map Viewer
There are multiple options to search on Canterbury keep reading to make sure you are using the most efficient method.
When you open a map, whether it be a customised webmap or the standard map viewer you will have the option to search the map.
Searching for an address or place
Right away you can begin to search for an address or location in Canterbury. As you begin typing suggestions will appear below. If you see the correct address appear, click the suggestion and you will be zoomed to that location on the map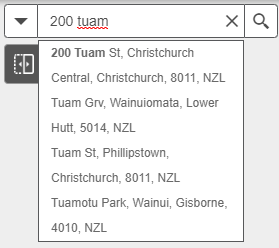 Other ways to search
As well as addresses, there is also the option to search by features in the map. To find what features you can search by, click the drop-down arrow beside the search box.
These are:
Surface water quality sites (e.g. SQ20588)
Wells (e.g. K36/0327)
Resource Consents (e.g CRC146483)
Land Parcels
Just like searching for an address, suggestions will appear and when clicked, will zoom the map to that location.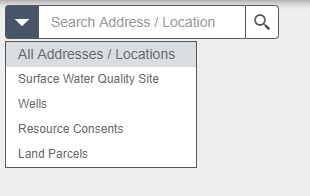 Please note
We have recently made some changes to the search bar to improve its efficiency. If your search bar looks different to the images on this page, try refreshing your browsers cache. If you need help with this click here.
If you have some feedback about this change please send us an email at canterburymaps.govt.nz